We will be doing the Christmas Shoppe again this year!!  The Christmas Shoppe is a two day event in December when students can come and buy Christmas gifts for the grown ups in their lives. The peer helpers and other student volunteers will be running the shop this year. We are looking for donations of:
Tissue paper
Gift Bags (we will not be using wrapping paper this year)
New, or nearly new, regiftable items that a grown up would be happy to receive on Christmas morning. Please do not send anything broken or incomplete.
NO TOYS please
This is a very popular event and the children are always very excited and thoughtful of the gifts they select for their loved ones. It is only possible by donations so look in the back of those closets for some forgotten goodies. Thank you!!
Thank you for your support!
Dear Willway parents,
If your child participates in Christmas Choir, you are cordially invited to come and see them perform in the Upper Rotunda at the Parliament buildings on Wednesday December 11th at 12 noon.
Hope to see you there,
Mrs. Sketchley
On behalf of the Willway Elementary School PAC, you are cordially invited to attend our 2019 Annual Silent Auction.
5-8PM
Saturday, November 30th
Ma Millers Pub
With many thanks to our local supporting businesses, organizations, teams, neighbours and families this event has remained our largest fundraiser each year.
We invite you to come enjoy a fun evening of food, drinks, and good company!
DONATE•BID•SUPPORT
We look forward to seeing you there!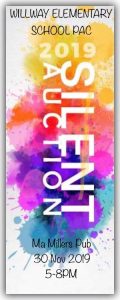 You will be receiving communication from your child's teacher about their learning over the next month.  This will be documented using the new reporting language outlined by the Ministry of Education (see attached for explanation of this language).  We call this a "point of progress" as it reflects that learning is a process.  If you have children in different classrooms, you will likely receive the point of progress communication at different times, reflective of the learning that is taking place in each individual class and for your child as an individual. Some teachers are using Freshgrade digital portfolios to communicate these points of progress.  Others are using paper based points of progress.
Your child's teacher will communicate about learning further in the Spring.  All teachers will provide a summative report that will be sent home at the end of June.  If you have any questions about your child's learning please ask their teacher.  We are excited to share their growth this year with you!
The Created by Kids Artwork should have made it home this week.
The art card on the back shows the products that you can buy!
Ordering online is also an option!
If ordering online, Please write the Online reference code on the art card and BRING IT BACK TO SCHOOL.
The art cards will be shipped to the printers and product will arrive in 4 weeks time.
Thank you!
Cheers,
Mannie