Good Morning Everyone,
With the accumulation of snow last night and road conditions as they are, schools will be closed today. (January 6, 2022).
Take care of yourselves.
Scott Stinson
All the lost & found items will be on display outside the front doors from 2:15 pm to 3:00 pm today.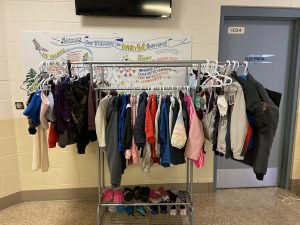 Hello Community Partners:
We are hosting a free meeting for Parents of Elementary and Primary Schools  on Thursday December 9th from 12 pm – 1:30 pm.
The presentation is called  "Beyond Behaviours: When Is It More? ** Karen Peters, Mom, Counsellor and speaker for this series talks about parenting using an analogy of a swimming pool and how some families seem to be struggling and spending more time treading water in the deep end.
Details: When our kids are having a hard time, or we are seeing something for the first time, we might wonder what's going on? In this video conversation, a parent and counsellor talk about the developmental stages of children, what are typical behaviours, and how do we know when something more might be going on. This conversation is for all families and caregivers who feel like they are parenting in the deep end of the swimming pool or are just wondering what they can do when it feels like more. Join us for a 40 minute video followed by a group discussion.
Date & Time: Thursday December 9th, 12:00 pm – 1:30 pm
Register: http://www.familysmart.ca/events
Cost: Free
Watch now: Beyond Behaviour What It Looks Like Ages 4 – 8: https://youtu.be/pilkjOVOVaM
Also Available for viewing: 
When Anxiety Shows up as Anger: https://youtu.be/Sk7b45uMxn0
Beyond Behaviour: What It Looks Like Ages 9 -13: https://youtu.be/paAcC1wWI_s
Beyond Behaviour: What It Looks Like Ages 13+: https://youtu.be/8KPdXLTnw9M
FamilySmart helps parents of children who are struggling with any kind of mental health issue. We offer one on one support and navigation of helpful resources online or in the community.  We are a free service and we do not have a wait list.  If you want to set up an appointment email Lisa.Tate@FamilySmart.ca
Take Care
December 9th Victoria-Sooke-Westshore ItK