PAC is fundraising with Hilltop Greenhouses Hanging Baskets. You can see available baskets in the attachment and order online through the Hot Lunch website: willway.hotlunches.net until April 6th. Baskets will be ready for pick up on April 26th.
Also, don't forget to order your Purdy's chocolates in time for Easter! Orders can be made through Purdy's website until March 28th. Go to www.purdysgpp.com and join our group: 36573. Orders will be ready for pick up on April 11th.
Happy Spring Break Everyone!
Willway PAC
If you are still wanting to receive your Rapid Antigen Test kit please contact the office for pick up or come to the front door and knock on the window on the left.  Last day will be Friday March 18th, 2022. After this date the kits will no longer be available from the school.
Dear friends and families of Willway,
As we head into Spring Break, please look out for the yellow notice coming home that looks like this: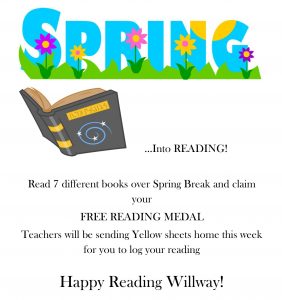 Last year I awarded 175 medals – let's see if we can top that this year!
On a separate note I wanted to update you with what the library purchased because of your generous support at our book fair in October. The following books and STEM resources are currently being used, read and loved in the LLC during library time:
Thank you again for supporting our October Bookfair and stay tuned for our next Book fair coming in May 2022!
Mrs Sketchley and Ms Hamm
Love from all of us at Willway Elementary